Embroidery is the method used for decorating fabrics with a needle and a thread.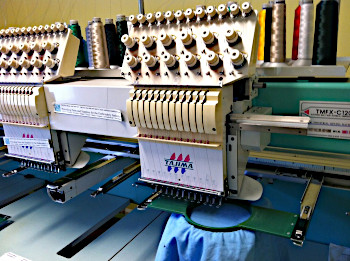 Embroidery is durable, versatile and offers a unique and professional finish;
it is an ideal alternative to printing especially for uniform and work wear when garments are intended to be used in an industrial setting or for bespoke promotional wear that you want to give a personal touch.
The embroidery techniques that we use are quick and clean, thanks to modern digital intervention. We are now able to 'digitise' artwork and designs which means they can be kept on file to be used again and again should extra orders be needed.
The cost of embroidery, whether for embroidered work wear, corporate clothing, embroidered polo shirts or a custom embroidery project, is subject to the number of stitches in the design; so the denser the design the more expensive it will be.