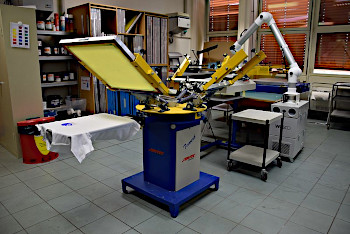 Screen printing is a printing technique whereby a mesh is used to transfer ink onto a substrate, except in areas made impermeable to the ink by a blocking stencil.
One color is printed at a time, so several screens can be used to produce a multicoloured image or design.
A very popular method for producing personalised garments, screen printing produces excellent quality, long-lasting results and is great value for large volume orders from 20 to 20,000.
It's better suited to artwork with spot colours as opposed to photographs or full colour prints with gradients.
A separate screen is required for each colour in the design, so, the fewer colours in your design, the less it costs to print. When printing onto coloured garments a base layer is required to ensure the print is bright and vibrant.