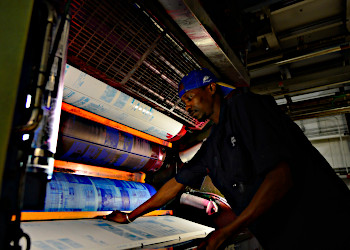 In transfer printing, paper is first printed with volatile disperse dyes. The printed paper is heated together with a textile material in a thermopress at up to 200 degC for thirty seconds. Under these conditions, the dye is transferred from the paper to the textile material by sublimation.
Transfer printing is great for bold, vibrant, full colour designs, and single colour individual names and numbers;
there are a huge array of colours available from fluorescents to metallic print effects and flock velvet effects. This printing technique is used extensively for sports wear and team kits.
Full colour transfer printing is the process of printing designs onto high quality vinyl which is then heat sealed onto your garments.
Unlike DTG printing which can only be used on 100% cotton garments, transfer printing can be used on virtually any fabric including polyester, lycra sports wear, waterproofs and jackets.